DIFFERENT SOLUTIONS
Replacement of a Single Tooth
If you were born with a hereditary failure to produce teeth or have lost a single tooth in an accident, you can replace it without having healthy, beautiful neighboring teeth filed down to support a bridge. Single tooth implants replace both the lost natural tooth and its root. It is recommended that children under the age of 16 wait for their jaws to fully develop before implant treatment.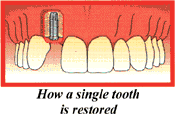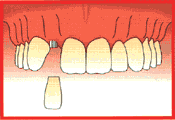 Restoration of Several Teeth
You may have lost some of your teeth as a result of periodontitis (disease of the gums), cavities, or factures in teeth with root fillings. This type of tooth loss usually begins at the back of the mouth. In these situation, a number of independent implants can be an excellent alternative because healthy teeth are unaffected. By choosing implant treatment, your bridge is not dependent on the support from your own teeth for future function.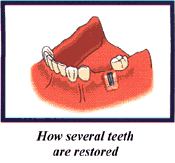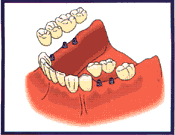 Replacement of the Lower or Upper Arch
If you have lost all teeth in one of your jaws, there are two basic treatment alternatives: traditional dentures or implant treatment, A full denture works in the short term, but as time passes underlying bone slowly resorbs with no tooth roots to keep it alive and active. Once the jawbone resorbs, it is gone forever. As a result, the denture no longer fits well, moves around and often causes pain. With implants, your new full arch is securely attached to your jawbone, keeping it healthy and alive. For people who are unable to tolerate a denture for psychological or social reasons, the feeling of recovering "natural" teeth results in a renewed quality of life.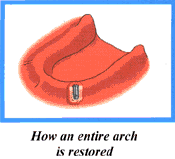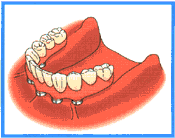 The Patient-Removable Option for Replacement of Lower or Upper Arch
There is another full arch treatment alternative that offers the advantages of implants but can be easily removed by patient. This treatment provides considerable improvement over traditional dentures by attaching the prosthesis to a bar (in most case) for great stability and function. This option sometimes requires fewer implants than the full arch replacement.